Midway through the 2013 college football season, our family of conference tie-ins expanded by one.  Beginning this year, the R+L Carriers New Orleans Bowl will add the Mountain West Conference to the mix of eligible teams.
Big Changes to College Football
The end of the BCS era brought changes to many conferences and some Bowl re-alignment occurred.  The New Orleans Bowl was not excluded from the repercussions of  those changes. Starting in 2014 and concluding in 2019, the R+L Carriers New Orleans Bowl will extend an invite to the Sun Belt Conference each year. Traditionally, this has been the first pick from the Sun Belt. During the same 6 year period, both the Conference USA and Mountain West Conference will be considered for the second invite.
Not Their Only Rodeo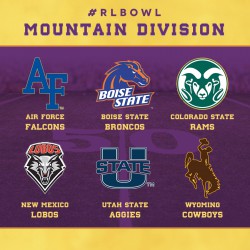 The Mountain West is no stranger to Div I Bowl games either. During the 2013-2014 Bowl season, MW appeared in 6 Bowl games including, the New Mexico Bowl, the Royal Purple Bowl, the Famous Idaho Potato Bowl, the Hawaii Bowl, the San Diego County Credit Union Poinsettia Bowl and the Heart of Dallas Bowl. With the addition of the New Orleans Bowl, coupled with inclusion in the new playoff system, Mountain West could see 7 or 8 Bowl games in a single season.
No Stranger to New Orleans
During the inaugural New Orleans Bowl in 2001, it was the Mountain West's Colorado State that took the first title over the Sun Belt Champion University of North Texas.  The Mountain West returned to the Big Easy in 2011. San Diego State accepted an invitation and played against the Sun Belt Champion University of Louisiana-Lafayette. The victory by the Ragin' Cajuns sparked their current run of three consecutive New Orleans Bowl victories.
Mountain + West
In 2013, it was Fresno State from the West and Utah State from the Mountain division that met for the Mountain West Championship. Fresno State won that battle.  Fresno fell to USC in the Royal Purple Las Vegas Bowl 45-20. Utah State went on to play in the San Diego County Credit Union Poisettia Bowl and defeated Northern Illinois 21-14.
The conference is split into two divisions. Mountain and West. We have broken down the teams accordingly to help you become more familiar. We will be including them throughout the season in our games of the week!
 #RLBowl
Follow us on Twitter at @RLCarriers and at the hashtag #RLBowl. Keep up with news from the Sun Belt, Conference USA and Mountain West football teams as they travel the road to the 2014 R+L Carriers New Orleans Bowl!