Today's R+L Carriers New Orleans Bowl players luncheon took place at the New Orleans Marriott, where NFL Hall of Famer and Hesiman Trophy winner Tim Brown gave the keynote speech to players, coaches and the New Orleans Sports Foundation guests.
Both Louisiana Tech and Arkansas State's pep bands and cheer squads pumped up the afternoon crowd with their fight songs and hometown cheers. Check out our Instagram page to see both bands bringing down the house!
Coaches Chat
Guests were treated to a pre-game chat with both Louisiana Tech's head coach Skip Holtz and Arkansas State's head coach Blake Anderson. Coach Holtz talked about how this season has prepared his team for the R+L Carriers New Orleans Bowl- "We played four games in the rain and one in 40 mile per hour winds, we're ready." Coach Anderson spoke on how he wasted no time getting his team prepared for the game when they arrived in New Orleans- "I ran the evil out of them. Got right to business."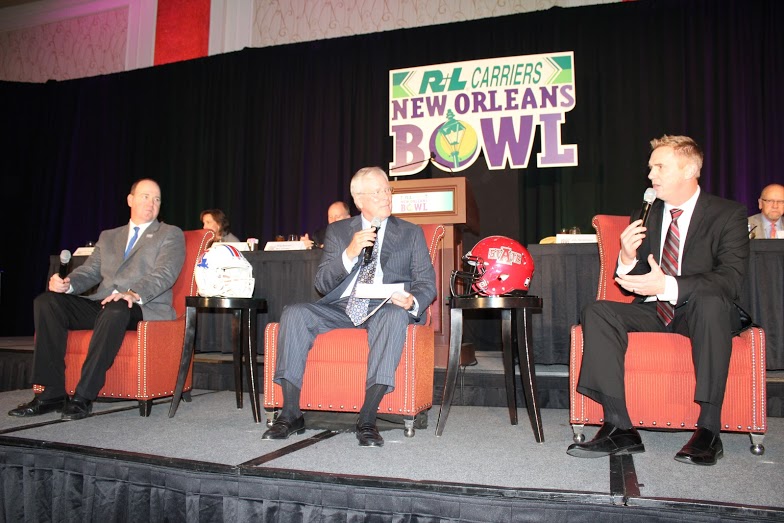 Paying Tribute
Chairman of the Greater New Orleans Sports Foundation, Paul Valteau, honored former chairman Ron Gardner who passed away earlier this year. Of Ron, Paul said "He lived to help others. His thoughts were always with the less fortunate in our community." In honor of Ron, the foundation has renamed the inspiration award the Ron Gardner Inspiration Award.
Tim Brown Gives Keynote Address
Tim Brown, NFL Hall of Famer and winner of the Heisman Trophy at Notre Dame addressed the lunchtime crowd.  The former wide receiver spoke about being inducted into the Hall of Fame this year, saying that his ring is a reminder of all of his hard work. He also stressed education, letting the players in attendance know he went to school for an education, not to play football. The most important goal to him was to graduate.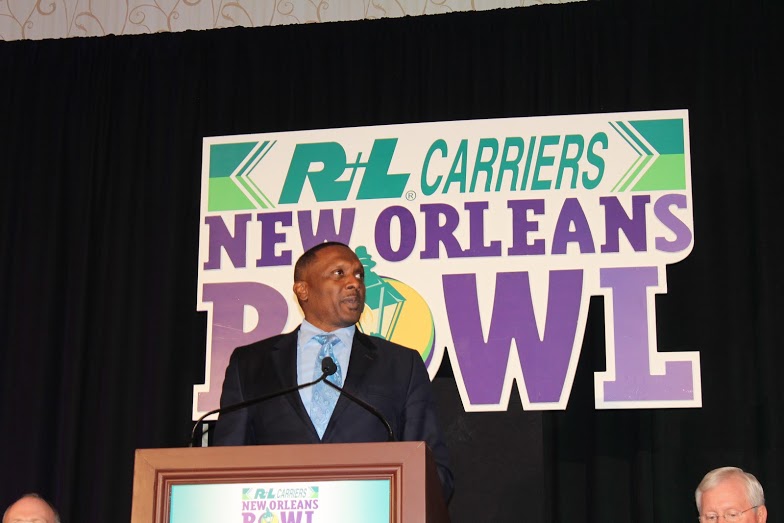 Brown also took the time to talk about something that has been in the news lately, concussions. On the subject he said, "You have the responsibility not only to your team but to yourself to be careful about what you are doing to your body."  The Making of a Man author ended his speech with a question for the attendees, "Ask yourself, what legacy have I accomplished?"
R+L Carriers and the New Orleans Bowl would like to thank Tim Brown for his inspiration message during the players luncheon.
Thank you @81TimBrown for your inspirational message to @LATechFB and @RedWolvesFBall today. #RLBowl pic.twitter.com/un45ifNghs

— R+L Carriers (@RLCarriers) December 18, 2015
The 2015 R+L Carriers New Orleans Bowl kickoff tomorrow at 9:00 pm (EST). You can watch the game live on ESPN. Follow us on @RLCarriers on Twitter and Instagram for FREE giveaways during the game. Remember to tag all your tweets and photos with #RLBowl.