This year the 2016 R+L Carriers New Orleans Bowl Players' Luncheon was honored to have New Orleans hero Steve Gleason give the keynote speech to players, coaches and the New Orleans Sports Foundation guests.
Coaches Corner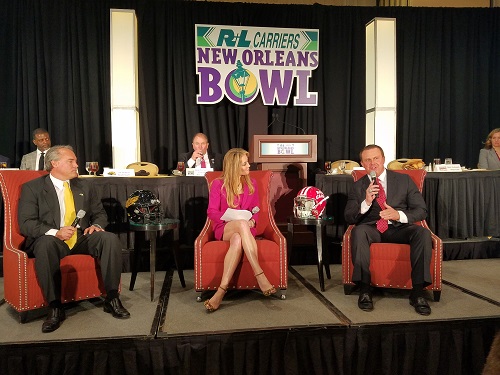 Coach Hudspeth of Louisiana-Lafayette and Coach Hopson of Southern Miss both took the time to answers some questions from Jennifer Hale, a Fox Sports journalist.  Coach Hudspeth reminisced on playing Southern Miss and said he has a lot of respect for their program. In reference to his team, Coach Hopson said his best memory was his senior class battling through adversity.
Coach Hopson, who after seeing a video of his players doing an impersonation of him coaching, joked that some of his players will owe him a few sprints before the game on Saturday. Only we think he meant it.
R+L Carriers New Orleans Bowl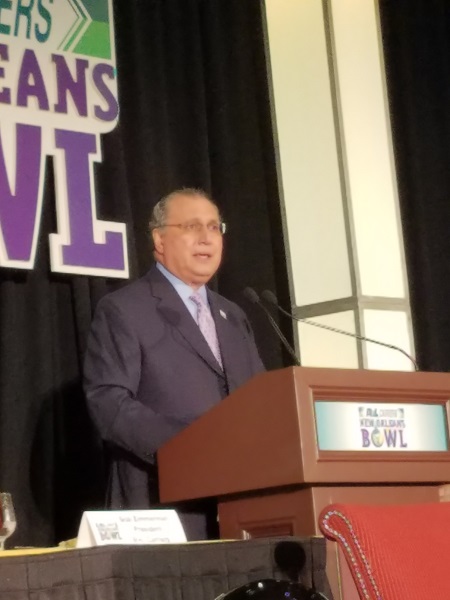 Paul Valteau, chairman of the New Orleans Bowl, offered his memories on how and when R+L Carriers came to be the sponsor of this bowl game. He noted that the Wednesday following Hurricane Katrina, R+L Carriers contacted him wanting to do something special and by Friday, September 29, the New Orleans Bowl and R+L had a verbal agreement. He added that this bowl game has a sterling reputation and noted that as a family owned company, R+L shares the values of the New Orleans Sports Foundation. He told the crowd that they have just negotiated a 5-year extension of the sponsorship of R+L Carriers through 2021, making R+L the longest sponsor of a college sporting event in this country. We are honored to support such an important organization in New Orleans.
Steve Gleason Inspires
It's hard to think of New Orleans and not think about Steve Gleason. Perhaps you remember the former New Orleans Saints player for his game-winning block in a Saints football game in 2007. This was no ordinary blocked punt. It was the first game back in the city after Hurricane Katrina and the block became a symbol of recovery for the city.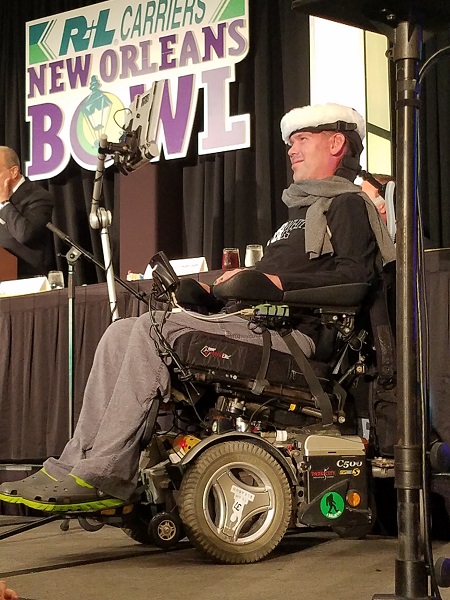 Gleason took the stage as the keynote during the luncheon and was greeted with an immediate standing ovation. Since being diagnosed with Amyotrophic lateral Sclerosis (ALS), Gleason is known for his work with raising awareness for the disease. Gleason was diagnosed at the age of 34 and around the same time he found out that he was going to be a father. His diagnosis has caused him to have a different outlook on life.
He reminded players that the result of the game doesn't matter, but what they learn from the game will. Gleason said he has learned to take problems from a different perspective, and that he plans to keep conquering for decades.
Said Gleason, " I learned to look at problems from a different perspective in order to find victory. I'm' not going to die with ALS I'm going to live with ALS. Although my body has weakened, my perspective has shifted and my life continues to flourish."
Steve Gleason's story has been made into an inspiring documentary, which was introduced in January of this year at the Sundance Film Festival.
After Gleason's keynote, every player will most certainly look at the game of football in a different manner. You can catch the 2016 R+L Carriers New Orleans Bowl on ESPN Saturday, Dec. 17 at 9 PM EST.