While passionate college football fans have been gearing up for R+L Carriers New Orleans Bowl Game Day, players were enjoying pre-game life in New Orleans. The R+L Carriers New Orleans Bowl is more than just a game, it's a collective event in which teams celebrate their success, give back to the community and reminisce on what it means to be a team player.
Welcome to New Orleans
The Crescent City greeted App. State on Tuesday while UAB came to town Wednesday afternoon. Much fanfare and celebration awaited each player's arrival as The Greater New Orleans Sports Foundation provided bold green Mardi Gras beads to those stepping right off the bus. Players donned their gifts, iconic tokens of New Orleans' Mardi Gras culture all while the Kinfolk Brass Band laid down some riveting New Orleans style jazz. Between beads and good music, we're confident both teams enjoyed their NOLA welcome!
🎷 Yesterday, we welcomed @UAB_FB to NOLA! 🐲@RLCarriers #RLBowl #UAB #Blazers #CollegeFootball #BowlWeek pic.twitter.com/JhMerwHBW9

— R+L Carriers New Orleans Bowl (@NewOrleansBowl) December 19, 2019
 R+L Carriers New Orleans Bowl Player Parties
New Orleans' Shamrock bills itself as "the biggest neighborhood bar in New Orleans and possibly the world." Players from both teams had fun with 23 Pool Tables, 4 PingPong Cages, 7 Well Lit Dart Boards, 2 Mini Bowling Lanes, Foosball, AirHockey, Shuffle Board, Skee Ball, Punching Bag, Hoops, Soccer and Football Games. Shamrock spans 16,000 sq. feet and had plenty of room for teams to get their groove on.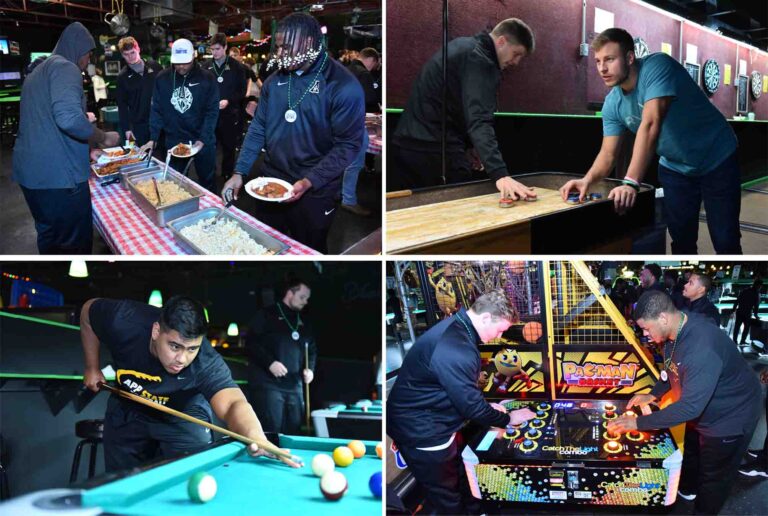 R+L Carriers New Orleans Bowl Media Day
During Media Day, held at the Mercedes Benz Superdome, App. State Head Coach Shawn Clark and UAB Head Coach Bill Clark were happy to lend us a few minutes to talk about their New Orleans Bowl experience after the first few days. Watch their interviews here or click the Instagram post below for more details.
App. State and UAB Day of Service: Giving back to the New Orleans Community
Competing in the R+L Carriers New Orleans Bowl Game will leave players with memories they'll never forget. While the App. State and UAB teams were in town, they took time to participate in the December 19 Day of Service, leaving many New Orleans natives with their own precious memories.
For the 2019 @NewOrleansBowl Day of Service, @UAB_FB and @AppState_FB visited different area locations to give back to the #NOLA community. pic.twitter.com/mHuMj2DBCk

— R+L Carriers (@RLCarriers) December 20, 2019
Both teams visited the LSPCA Animal Rescue to help staff with animal care, and make a furry friend or two! Each team also stopped by Sunrise Senior Living to lead fun activities with the elderly.
UAB continued their work with senior citizens, organizing games at Lambeth House to give everyone a fun time. Eventually, it was time to break out the books so UAB sent players to the Kipp Central City school and the Kipp East branch to read to young students. They also went to the LCMC children's hospital to continue channeling positive energy toward excited children.
App. State got their shovels out, assisting the Arthur Ashe Charter School with food gardening and helping the Basin Foundation plant trees. The team also invested time in helping local youth, reading to children at Educare New Orleans and making patients smile at the Ochsner Children's hospital.
It's heartwarming to see the players helping New Orleans; we hope this year's Day of Service was a time to make new friends and forge lasting connections for years to come.
R+L Carriers New Orleans Bowl Coaches and Players Luncheon
Part of the pre-game festivities includes the annual Coaches and Players luncheon, held at the Marriott on Canal street. Each year, the luncheon features both teams, marching bands, mascots, cheerleaders and a rousing speech from a special keynote speaker, this year being former NFL player and Superbowl Champ Ryan Clark. App. State Head Coach Shawn Clark and UAB Head Coach Bill Clark began the event with insight into what makes their experiences in New Orleans "more than just a game."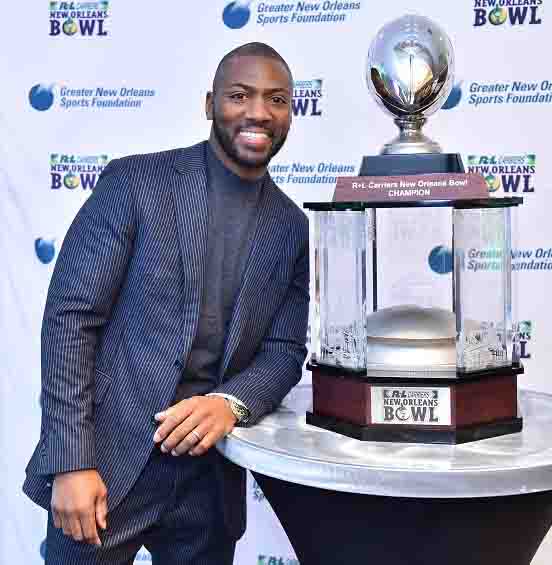 The keynote, Ryan, is no stranger to being behind the camera, especially in his current position as an Analyst for ESPN. His speech was a roller-coaster of emotions as he discussed his battle with sickle cell anemia and the birth of his children. Read more about Ryan Clark's Keynote Address here.
B-52s 40th Anniversary Tour Concert
Pregame festivities typically culminate in a Friday night pre-game concert, this year featuring the B-52s in Champions Square. It's hard not to get lost in a wave of nostalgia hearing "Love Shack" performed live. We were happy to see such a large crowd turn out the event!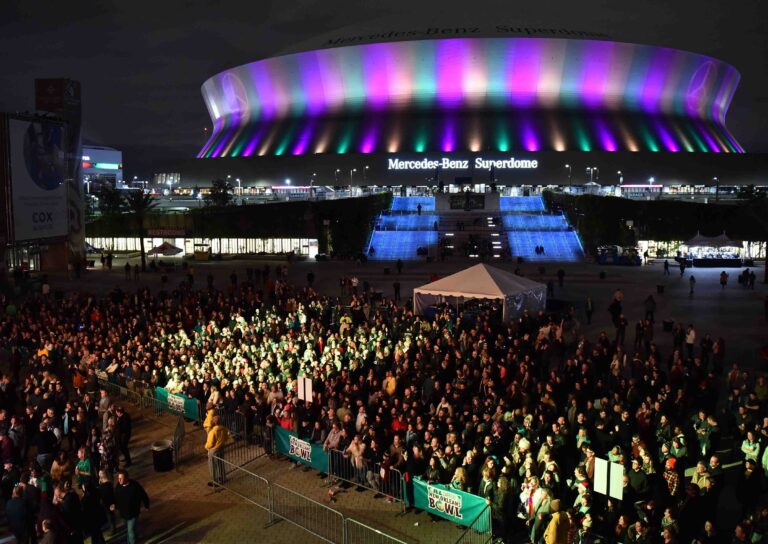 ON SALE ALERT ⁠— Tickets to The B-52's 40th Anniversary Tour are on sale now! Come kick off R+L Carriers New Orleans Bowl weekend with us! https://t.co/8aMPP2ooBU pic.twitter.com/m2P2SgUvnK

— Champions Square (@ChampionsSquare) November 1, 2019
Tweet @TheB52s to share your favorite tunes from the night's concert.
Join us for the 2019 R+L Carriers New Orleans Bowl
All of this pre-game action has been building up to the 14th annual R+L Carrier New Orleans bowl game Saturday, December 21 at 9 PM EST on ESPN. For live, behind-the-scenes action, follow us on Twitter, Facebook, and Instagram for exclusive content coming straight from the game. Tag your social media posts with #RLBowl to join the conversation and for a chance to be featured on social!