Championship Week is on the horizon and several college football teams have their fate on the line this weekend. As seen in previous weeks, there is no shortage of excitement in the Sun Belt and Conference USA, as several teams continue to hold their destiny in their hands as they fight their way to the top. Here's how the outcomes of this weekend's games will impact the 2015 R+L Carriers New Orleans Bowls.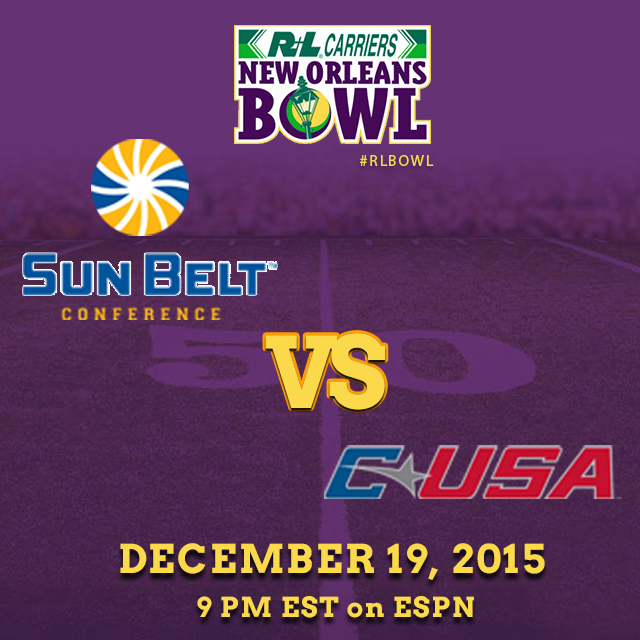 Sun Belt Scenario
The Sun Belt does not hold a traditional conference championship game. However, there are 3 games this weekend that affect the 2015 R+L Bowl matchup. No matter what the end results are this weekend, the Arkansas State Red Wolves have already claimed a share of the Sun Belt Championship title. With their 52-28 victory over New Mexico State last week, the Red Wolves need one more victory this weekend over 3–8 Texas State to win the Sun Belt Championship Title outright. However, both Appalachian State and Georgia Southern could potentially get a share of the conference championship title should they win their matchups against South Alabama and Georgia State, respectively. South Alabama and Georgia State also have a lot on the line during this weekend's games. Both of these teams are sitting at 5-6 overall and for a team to be bowl eligible they need at least 6 wins. South Alabama and Georgia State are looking to play spoiler to pick up that 6th win and claim bowl eligibility.
Game of the Week
Our Game of the Week comes from Conference USA, where Western Kentucky hosts Southern Miss in the conference championship game. Winners of the East Division, finishing last week with a 49-28 victory over Marshall, the Western Kentucky Hilltoppers are led by Senior Quarterback Brandon Doughty. Doughty has been playing lights out this season, passing for 4,184 yards and 42 touchdowns, making the Hilltoppers offense one of the best in the country. Western Kentucky is looking for their first Conference USA championship, but standing in the way of this goal are the Southern Miss Golden Eagles. The Golden Eagles are flying high into this weekend's championship game, boosting the conference's number one offense and defense. The Golden Eagles Junior quarterback, Nick Mullens, has been playing lights out as well, passing for a school record 3,964 yards and 35 touchdowns. While the Hilltoppers are looking for their first conference title, the Golden Eagles are on the hunt for their fifth Conference USA title.
Visit the Sun Belt Conference website for the complete schedule of the games this weekend. The Conference USA Championship kicks off at Noon (EST) on ESPN 2. Stay tuned to our Twitter feed at @RLCarriers and under the hashtag #RLBowl for game updates. Be sure to cast your vote in our fan poll below!
[cardoza_wp_poll id=14]