There is a shakeup in the Week 11 College Football Playoff Rankings. After a wild weekend, we watched 3 of the country's top 4 team's stumble and pave the way for some more contenders to make their case and fight for their place in the playoffs. Alabama remains # 1, the only undefeated team in the country. Clemson, Michigan and Washington were previously undefeated but took their first loss of the season.
Ohio State, previously ranked #5, appeared to be on the outside looking in but now they are clinching onto #2.  As if the Michigan vs. Ohio State game wasn't already big enough, now next weekend's matchup has even more on the line. Elizabeth Grant, of 3 Yards in the Cloud gave us her take on Ohio State.
Vegas and recruiting rankings know best. Ohio State has had top 10 recruiting class rankings the past four years in a row. Michigan's recruiting classes ranked 4, 51, 31, and 5 the last four years in a row and they will lose to Ohio State this year.
For a complete list of the top 25, visit the College Football Playoff website.
Impact of the R+L Bowl
The College Football Playoff Rankings have little impact on who will play in the 2016 R+L Carriers New Orleans Bowl. Going into Week 12, Mark Schlabach of ESPN has projected Arkansas State will play Southern Miss. Brett McMurphy, also of ESPN has projected Arkansas State vs. Old Dominion.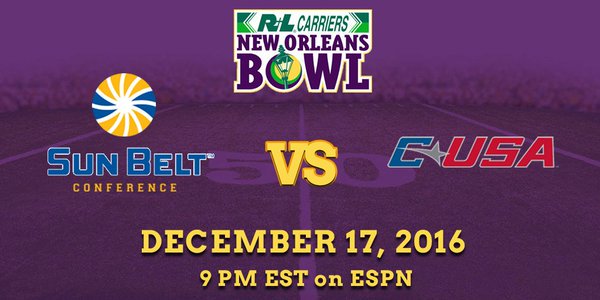 Sun Belt and C-USA Teams to Watch
Two undefeated teams sit on top of the Sun Belt Conference. Troy in 1st place at 5-0 and 2015 R+L Bowl runner-up Arkansas State is in 2nd place at 5-0. Appalachian State is in 3rd at 5-1. Troy was put to the test last week against Appalachian State but won 28-24. Troy has been tough all season and will face Arkansas State in the New Orleans Bowl Game of the Week on Thursday.  The team's only loss came at Clemson, the #5 team in the College Football Playoff Ranking. It was an exciting game that ended with Troy losing 24-30.
The 2015 R+L Bowl champion Louisiana Tech is sitting on top of the West in Conference USA at 6-1. Western Kentucky is on top of the East at 6-1 too. If the standings hold up, Louisiana Tech will meet Western Kentucky in the Conference USA Football Championship Game on Dec. 3. The winner will determine the Conference USA Champion and directly impact what school will represent the conference in the R+L Bowl.
Bowl season is almost upon us! Throughout the remainder of the season we will keep you up to date with college football news and news directly impacting the R+L Carriers New Orleans Bowl inside our Fan Zone!
Mark your calendars for the 16thAnnual R+L Bowl – Saturday, December 17 at 9PM (EST).