The 2016 R+L Carriers New Orleans Bowl champion was crowned on Saturday night! In the 16th edition of the bowl game, Southern Miss defeated Louisiana-Lafayette 28-21.
Highlights from Bowl Week
R+L Bowl week is always full of activities for both teams and fan bases. On Tuesday Louisiana-Lafayette arrived in New Orleans and had a team party at Shamrock, the local hot spot in the area. The next night, Southern Miss had their turn to have some fun. During the middle of the week on Thursday, coaches and players participated in a Media Luncheon designed to allow local media to cover the event and ask questions. Coach Jay Hopson and Mark Hudspeth were gracious enough to talk with us about their expectations for the game and how much their team was enjoying being in New Orleans.
Watch both of their interviews below.
We sat down with @CoachHopson and @ULCoachHud at the Media Luncheon today to chat @NewOrleansBowl! #GEAUXCajuns #SMTTT #RLBowl pic.twitter.com/yf7LETvifr

— R+L Carriers (@RLCarriers) December 16, 2016
Perhaps the most inspirational moment of the weekend came when Steve Gleason gave the keynote speech at the Players Luncheon on Friday.  This event was not open to public, but you can read our recap of his speech about how he is overcoming ALS. Later that evening fans enjoyed a free concert by Gin Blossoms and Better than Ezra performing outside in Champions Square.  Check out our Instagram page for videos and pictures of that fun event.
The R+L Carriers New Orleans Bowl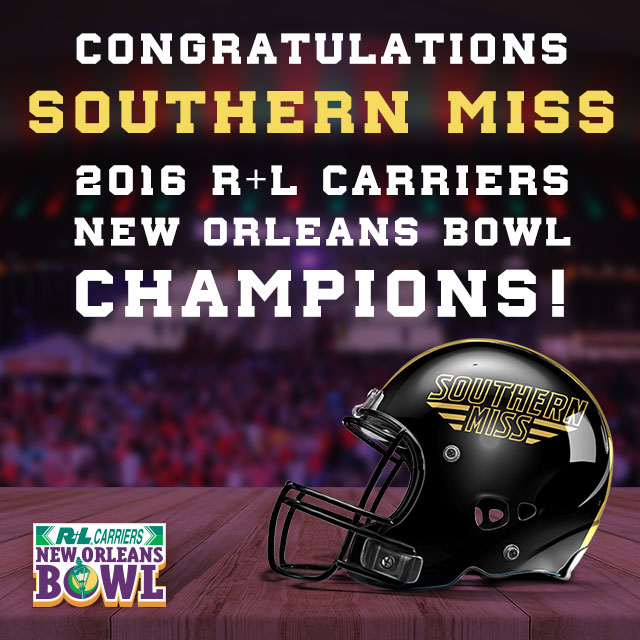 Southern Miss and Louisiana-Lafayette are no strangers to the R+L Carriers New Orleans Bowl. Louisiana-Lafayette came into the game winners of 4 out of their last 5 appearances in the bowl game. Southern Miss last won the championship in 2008. At the end of the night, Southern Miss would reign victorious again as R+L Carriers New Orleans Bowl Champions. The victory came in large part thanks to Allenzae Staggers, who was a huge part of their passing game during the night. He ended the night 230 yards receiving and 1 touchdown and was named game MVP.
In case you missed the news, we're happy to report that R+L Carriers has signed on to be the title sponsor of the New Orleans Bowl for five more years. We'll see you next year New Orleans!