Each December, college football players are rewarded with postseason honors for their commitment and dedication to achieving goals throughout the season. This year, the 17th edition of the R+L Carriers New Orleans Bowl features Troy University and the University of North Texas. The players, coaches, and fans are treated to a fantastic week in the Big Easy, full of festivities for everyone to enjoy.
A New Orleans Welcome
New Orleans never waivers in making visitors feel like family and both teams were welcomed in true New Orleans fashion!  The University of North Texas was the first team to arrive, greeted in the hotel parking lot with a very enthusiastic brass band while being dawned with the infamous New Orleans beaded necklaces. Troy University players were treated with the same welcome at local eatery, The Shamrock.  Both teams were treated to an exclusive Players Party, an opportunity to enjoy music, games, plenty of New Orleans' world famous food and were able to relax as a team before hitting the field!
The best way to spread #RLBowl cheer is playing loud for all to hear! Welcome to the @NewOrleansBowl @MeanGreenFB! pic.twitter.com/rEzbK2OlHx

— R+L Carriers (@RLCarriers) December 12, 2017
Day of Service
This is the first year the R+L Carriers New Orleans Bowl has participated in what we are calling the Day of Service. Traditionally, players would visit local children's hospitals in the spirit of Christmas and R+L Bowl cheer. This year, we decided to spread the spirit even further! The players were divided into groups of 10-15 and descended into The Big Easy with one thing in mind – to give back to the community! Some of the activities included reading to children at school, visiting with patients at the children's hospital, and line dancing with the residents at a senior citizen's home.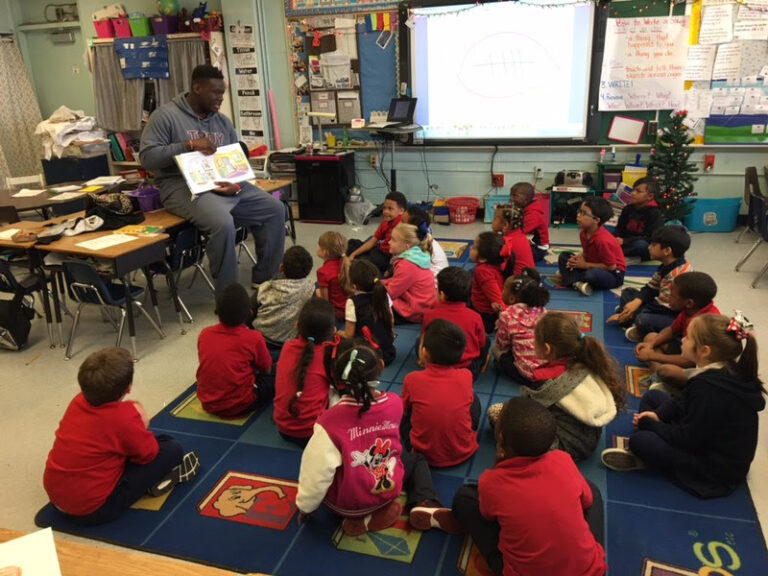 The Day of Service proved to be mutually beneficial. Community members in need were able to get outside of their daily routine and visit exceptional young men, and the football players were given exposure to the community, culture, and even potential career paths they may not have considered. R+L Carriers was able to talk to LaDarius Hamilton, Sophomore Defensive End for North Texas. What he told us perfectly sums up the Day of Service, LaDarius said, "It's easy to think about me, but to give back to someone else and see them smile and make their day, that means the world".
Media Day
Players and coaches from both Troy and North Texas participated in a Media Luncheon designed to allow local media to cover the event. We had a chance to catch up with Coach Neal Brown of Troy and Coach Seth Littrell of North Texas. Both coaches wanted to thank R+L Carriers and the city of New Orleans for their hospitality and were grateful for the Players Party upon arrival, that allowed their players to relax and enjoy time with each other.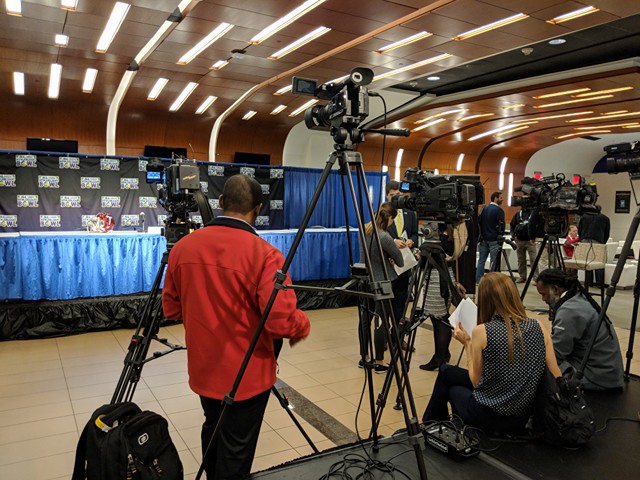 Troy Coach Neal Brown told us, "I appreciate R+L Carriers for sponsoring this bowl game and all they do to promote college football".
North Texas Coach Seth Littrell told us, "I want to say thank you to R+L Carriers. This has been an unbelievable experience from the time we stepped off the bus".
More New Orleans Fun
The R+L Carriers New Orleans Bowl will kick off Saturday, December 16th at 1 pm (EST) on ESPN but there is still plenty of fun that will take place for players and fans ahead of the game. On Friday, the Coaches and Players Luncheon will feature 3x Super Bowl champion, Darren Woodson as keynote speaker. Woodson graduated from Arizona State University and played for the Dallas Cowboys throughout his entire NFL career. On Friday night, the fans will have an opportunity to sing along with some of the most iconic names in rap, hip-hop, and R&B at the I Love The 90's Tour at Smoothie King Center. Tickets are available for purchase online.
The Fan Zone will keep you updated throughout the remainder of the week! Don't forget to follow us on Facebook, Twitter, and Instagram for behind the scenes action leading up to the bowl game. Don't  forget to tag us using #RLBowl.