R+L Carriers is heading back to NOLA y'all!
On Saturday, December 16, 2017 at 1 PM (EST) the 2017 R+L Carriers New Orleans Bowl will be played at the Mercedes-Benz Superdome. Officials from the New Orleans Bowl and the Greater New Orleans Sports Foundation made the official announcement May 10. The game, which will be televised on ESPN and ESPN Radio will feature a matchup between the Sun Belt Conference and Conference USA.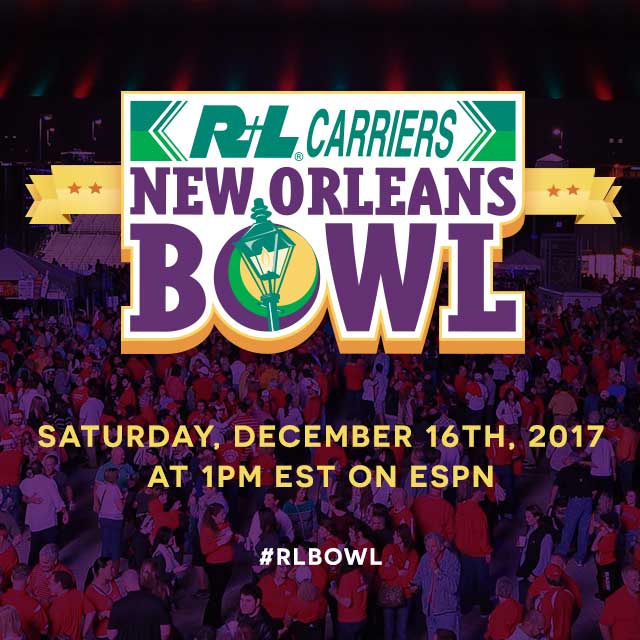 2016 Season Recap
Last season, the R+L Carriers New Orleans Bowl featured Southern Miss out of Conference USA and Louisiana-Lafayette out of the Sun Belt.  Southern Miss finished 3rd in the Conference USA West Division with a 6-6 overall record, while Louisiana-Lafayette needed a win in the last game of the season to become bowl eligible.  At the end of the 2016 R+L Bowl, Southern Miss reigned victorious as champions, defeating Louisiana-Lafayette 28-21. The victory came in large part thanks to Allenzae Staggers, who was a huge part of their passing game during the night. He ended the night with 230 yards receiving and 1 touchdown and was named game MVP.
As in years past, count on the R+L Carriers Fan Zone to bring you news and updates leading up the R+L Carriers New Orleans Bowl. Tag us on Twitter @RLCarriers and use #RLBowl to interact with us.
Who will win the 2017 R+L Carriers New Orleans Bowl? Tweet us your predictions! View our 2016 New Orleans Bowl recap below!