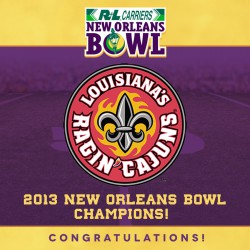 The 2013 R+L Carriers New Orleans Bowl earned the nickname "Battle of the Bayou" as two great Louisiana schools faced off this weekend. Tulane University had a remarkable season, marking a major turning point in their program and finishing strong in their last season of play with Conference USA. It was clear since August that the Ragin Cajuns in Lafayette had this game on their radar. By sharing the Sun Belt title with Arkansas State the Cajuns earned their way back.
The Game
Rumors of Terrance Broadway's health kept the pundits guessing all week. All were hoping he would have some game time and all expected a close game. QB Broadway and the Ragin' Cajuns didn't disappoint. Louisiana jumped out in front immediately scoring 14 in the first quarter. It was the first time this season that UL had kept their opponent scoreless in the first period. A pick six off a pass from Nick Montana pushed the gap to 21 points.
Tulane's Senior RB Orleans Darkwa ignited the Wave by punching in the first of his 3 running touchdowns of the night in the second quarter. Prior to the half Orleans would carry for another touchdown. Tulane and UL took a break with the score 21-14.
Roller Coaster of a Game
Louisiana rolled out 21 unanswered points in the first half and Tulane battled back with 14 of their own. It was near the end of the 3rd quarter when Orleans Darkwa broke free for his longest run and scored on a 22 yard sprint. Game tied entering the 4th quarter. Louisiana broke out with 21 unanswered points, prompting Tulane to respond with 21 unanswered points of their own, all touchdowns by Orleans Darkwa. Three rushing TD's are a New Orleans Bowl Record, a Tulane Record and a Tulane bowl record. Orleans finishes his Tulane career tied with Matt Forte, the only other Tulane RB with 39 Rushing TD's in a season.
Kicking Matters
Tulane's defense was energized by the offense's ability to keep them in the game. Five minutes into the final quarter Louisiana split the uprights with a 27 yard field goal to give them a 3 point edge. Tulane and Louisiana exchanged possessions again as the time ticked away. Tulane, in a powerful display, marched back down the field before being stopped around the 35. Penalties moved the ball back and Cairo Santos had a 48 yard field goal to attempt. He missed but the ball was called back as UL called a timeout before the kick. A second attempt to tie the score.
Santos missed it as the clock expired leaving the victory in the hands of Louisiana's Ragin' Cajuns.
Three-peat and MVP
Two things happened in R+L Carriers New Orleans Bowl history. First, University of Louisiana joined Southern Mississippi as the only two schools to win the Bowl three times. Secondly, for the first time, a player from the runner up team took home the MVP trophy, Tulane Senior RB Orleans Darkwa.

Tags: Conference USA, New Orleans Bowl, Sun Belt Conference, Tulane University, University of Louisiana at Lafayette


Categorized in: New Orleans Bowl

blog comments powered by Disqus