This year, the 2017 R+L Carriers New Orleans Bowl Players' Luncheon was honored to have 3x NFL Super Bowl Champion and former Dallas Cowboy Darren Woodson give the keynote speech to players, coaches and the New Orleans Sports Foundation guests.
Bands and Cheer
Both North Texas Mean Green and Troy Trojans had their pep bands and cheer squads to ignite the lunchtime crowd in the New Orleans Sheraton on Canal today. Players and guests for both teams enjoyed their respective fight songs and cheers from home.
Shoutout to the @MeanGreenSports Marching Band! @MeanGreenFB has arrived to the @NewOrleansBowl Players Luncheon. #GoMeanGreen #RLBowl pic.twitter.com/eQ1Df29Rj1

— R+L Carriers (@RLCarriers) December 15, 2017
Coaches Chat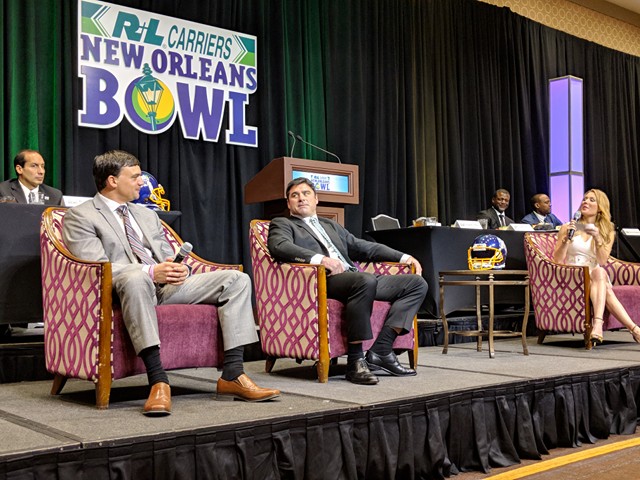 Guests were treated to a pre-game chat with Troy head coach Neal Brown and North Texas head coach Seth Littrell. Both coaches took the time to thank R+L Carriers for sponsoring the bowl game. Coach Brown wanted to stress the importance of an education and said the toughest part about being a coach is getting a group a guys to have a relationship together with love, care, and trust. Coach Litterell again stressed his gratitude for R+L Carriers for supporting the bowl game. The toughest part about being a coach to him is getting to know the players and establishing trust between the team members. He also referred to the team as being a family.
Recognizing the Players
The theme of education and service has been constant throughout the entire week in New Orleans, and there was a moment taken to honor the graduating seniors on both teams. North Texas has 7 graduating seniors and Troy has 9. Troy University will actually hold a commencement ceremony in New Orleans for the players prior to the R+L Carriers New Orleans Bowl.
2017 @RLCarriers New Orleans Bowl Day 2: Day of Service and @MeanGreenFB Player Party. @TroyTrojansFB #RLBowl pic.twitter.com/qjxyCOUN67

— New Orleans Bowl (@NewOrleansBowl) December 14, 2017
Recognition for all of the players was given when a highlight reel of the Day of Service was shown to everyone in attendance. You can read about the entire day in our Day of Service blog we posted yesterday!
ESPN's Darren Woodson
The former Dallas Cowboy defensive back and current ESPN football analyst shared a few remarks with the players and special guests. Woodson first wanted to acknowledge Merton Hanks, former NFL player and current NFL Vice President of Operations who was also in attendance for inspiring him to improve himself. He then wanted to thank R+L Carriers for supporting the bowl game. He said that from the time he arrived in New Orleans, all he has heard about was the support we have provided for this bowl game.
One of Woodson's biggest downfalls was that he had no positive role models for success. Woodson then spoke about what it means to be a student-athlete. Growing up in the projects in Phoenix, he said he was not a good kid and he was mediocre or average at everything. One time, a recruiting coach told him that his skills were there, but his grades did not qualify him for the team.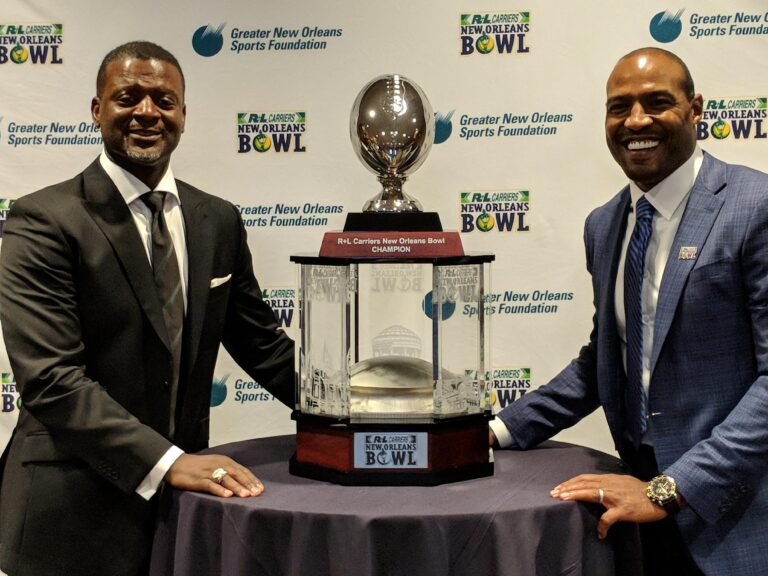 Woodson would then go on to earn All-Metro Division AAA and All-City honors in high school and would eventually walk on at Arizona State University as an "undersized defensive back. He was coached by Lovie Smith, someone who he credits for being that positive role model for success in his life. After his playing days at Arizona State, Woodson would be drafted in Round 2 of the 1992 NFL Draft. During his playing career from 1992-2003. Darren would become a 3x Super Bowl champion, 5x Pro Bowler, and a 3x First Team All Pro. He has also been inducted into the Dallas Cowboys Ring of Honor, a prestigious honor by the team that is a testament to his character and success.
Woodson went on to praise student athletes for being tough because of the discipline  and endurance they display, but said the best thing they can do is educate themselves for when the game ends. Woodson ended his keynote by telling the student athletes that tomorrow is going to be a good day, win or lose, and they will remember each other and these moments because that's what it's all about.
After Woodson's keynote, each player will most certainly remember tomorrow's game, no matter the outcome. You can watch all of the Troy and North Texas student athletes in the R+L Carriers New Orleans Bowl on ESPN Saturday, Dec. 16 at 1PM EST.