By now you have heard the news. UL Lafayette faces Nevada! The Mountain West will be represented by the University of Nevada in the 2014 R+L Carriers New Orleans Bowl. Louisiana-Lafayette will defend their title for the 3rd consecutive year.
Sun Belt
The Ragin Cajuns completed a near perfect conference season this year going 7-1 and 8-4 over all. The Cajuns placed right behind Georgia Southern for the Conference title. The Ragin Cajuns will make their 4th consecutive R+L Carriers New Orleans Bowl appearance.
In 2011 UL-Lafayette defeated the Mountain West's San Diego State University. This was the first appearance of the MWC in the New Orleans Bowl. 2012 The Cajuns defeated East Carolina of the Conference USA. Last year Louisiana-Lafayette captured their third consecutive victory over hometown Tulane in a close battle.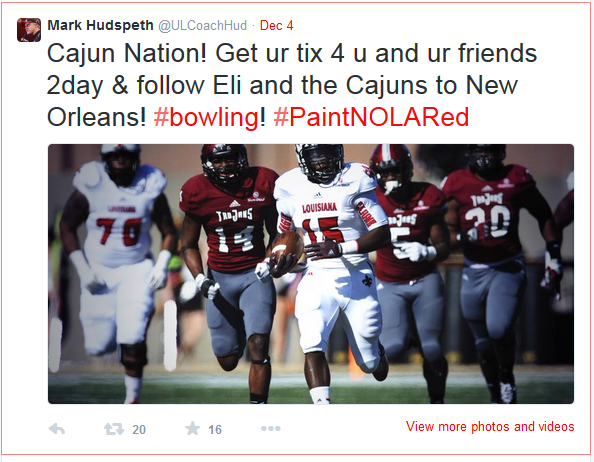 Mountain West
Placing third in the MWC West Division the Nevada Wolf Pack went 7-5 overall and were an even .500 in conference play at 4-4.  Nevada enjoyed Bowl invites from 2005-2012. They were victorious in the Hawaii Bowl in 2005 and the Kraft Hunger Bowl in 2010. Nevada went without a bowl invite in 2013 and are looking forward to the New Orleans Bowl to face a local favorite.

#RLBowl
Join us as we follow both coaches as they prepare for the 14th playing of the New Orleans Bowl. For all the gameday details, events and news from the bowl follow us on Twitter and watch the #RLBowl hashtag. We will be giving away official #RLBowl merch via Twitter and Instagram during the game.
The R+L Carriers New Orleans Bowl is the first game of the 2014-2015 College Bowl Series. Played in the famed Mercedes Benz Superdome in New Orleans kick off is at 11:00 a.m. ET. Watch the game live on ESPN and follow along on social media.