Imagine playing flag football at your local park as a child. Now Imagine playing in the American Flag Football League against teams made up of players like Michael Vick and Chad "Ochocinco" Johnson. That was a reality for Robert M., a P&D driver for R+L Carriers in the New Orleans, Louisiana area. His team called "Fighting Cancer" dominated United States Olympic track and field legend Michael Johnson's "Godspeed" team including former NFL stars Seneca Wallace, Jahvid Best, and Jacoby Jones to win the National Flag Football Championship by a score of 26-6. When the final whistle blew, Rob and his teammates had won the $1,000,000 prize!
History of the "Fighting Cancer" Flag Football Team
About two years ago, Rob and a few of his friends were playing in a local recreational Flag Football league in the New Orleans area.  Rob's future coach Stephon Johnson approached him about setting up a team of all-stars from around the city to play in a Superstar league that would play around the state.   Once Rob and Stephon formed the team, they quickly found their groove and went undefeated in their first year to win the state flag football championship.  That opened up the door for the team to be invited to the National Flag Football Championship tournament in the summer of 2018.  The entry fee for the national tournament is $10K but as a result of their state championship title, that fee was waived.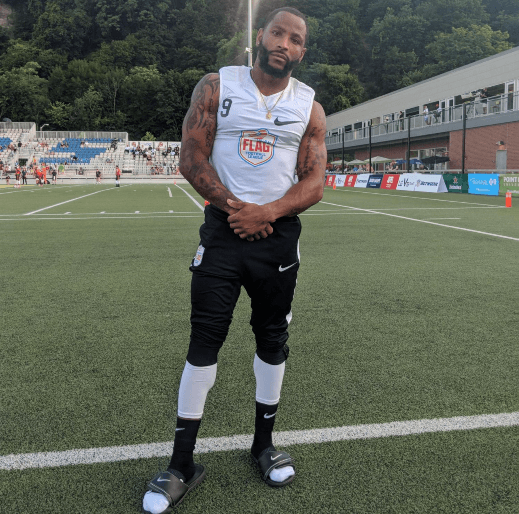 The Meaning Behind Team "Fighting Cancer"
One of the first things they had to do was come up with a team name, which for them came easy. They wanted to honor players' family members who were stricken with cancer and found themselves fighting for their lives against the deadly disease.  Although those family members eventually lost their individual battles, Rob and his teammates promised to never stop the fight.
The team adopted the name "Fighting Cancer" to pay homage to those lost family members and to raise awareness for breast cancer, which is what claimed the life of Rob's mother. Each member of the team had someone in their life who succumbed to cancer and their team logo reflects that by displaying the age of each person at the time they passed away wrapped around a pink ribbon.   If you look closely at the logo, you will see that there are both young and old who lost the fight.  The team carries their memories with them wherever they go to remind them of why they play the game.  It is not just a sport to them; it is a cause for which they will never stop fighting.
Highlights from the Championship Game
Watch the highlights from the championship game and watch our driver Robert do a backflip into the end zone for the win!
Real Men Wear Pink New Orleans
Also within the New Orleans terminal is our R+L Carriers Account Executive Tim M.  Tim was nominated this year by the American Cancer Society (ACA) to be one of the 25 "Real Men Wear Pink" (RMWP) representatives.  A cancer survivor himself, Tim's role with RMWP is to raise money and awareness for breast cancer research and for the Hope House in New Orleans. The Hope House is a place where cancer patients can stay for free while they are being treated and is full of generous people who have dedicated their lives to fighting cancer.  The 25 men in the Real Men Wear Pink initiative attend American Cancer Society events around New Orleans and represent the ACA as an ambassador for their cause.  Tim sets up fund-raising events, draws awareness to the events, and asks everyone he knows and doesn't know, to donate to the cause.  When asked, Tim will tell you he got involved with the Real Men Wear Pink campaign so that someday no one else will ever have to hear the words "you have cancer".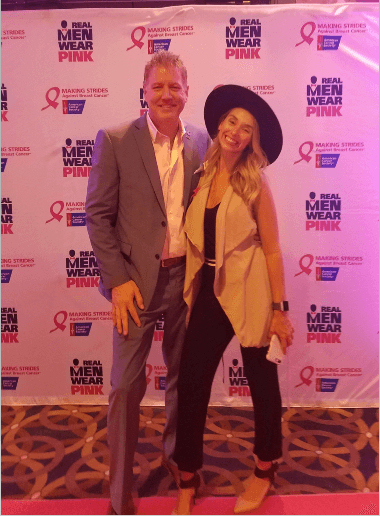 How You Can Help Stop Cancer
R+L Carriers believes in giving back to the community, that's why we'll be back to support New Orleans on Saturday, December 15 to sponsor the R+L Carriers New Orleans Bowl! We are fortunate to have employees who feel the same way. Everyone at R+L Carriers is proud of driver Robert, his Team Fighting Cancer and Tim for their dedication to such an important cause! Tim has raised $1,035 of his $2,500 goal. We'll see y'all back in New Orleans in December!
If you would like to donate to Tim's campaign, visit his Real Men Wear Pink Page and click the donate button.