It's week five of college football and conference schedules are starting to take shape. This week we are watching the Sun Belt as the South Alabama Jaguars take on the Vandals of Idaho.  The Vandals are 0-3 to start the season.  Idaho is new to the Sun Belt having played the 2013 season as an Independent school. Idaho avoided a week one loss at Florida when the game was cancelled due to bad field conditions resulting from torrential rains the week prior. South Alabama however picked up a week one win over Kent State, then dropped the next two against Mississippi State and conference foe Georgia Southern.
Vote for your Favorite Team
[cardoza_wp_poll id=2]
Jaguars of South Alabama
The Jaguars are a young team. They first kicked off in 2009 and have been led all five years by Joey Jones. The Jags have a 25-15 record going into this season.  South Alabama finished a strong 6-6 in their first full season as a member of the Sun Belt last year. The boys from South Alabama are looking for that first bowl eligible season and 2014 could be it.  The rest of their season includes two more non conference games, one against South Carolina and the other against Mountain West's Air Force team.
Idaho Vandals
Unlike the Jaguars from lower Alabama, the Idaho team dates back over 120 years.  Their coach went 1-10 in his first season rebuilding the Vandals in 2013. While this is the first meeting between Idaho and South Alabama, the Vandals hold a 25-21 record against Sun Belt teams.  Idaho has found some success in recent years, having made appearances in the Humanitarian Bowl played in Boise in 1998 and 2009. Idaho won both!  Idaho has two former R+L Carriers Bowl teams left on their non conference schedule, playing both Ohio and San Diego State later this season.
The Matchup: Jaguars and Vandals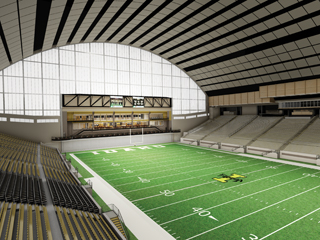 South Alabama barely breaks the top 100 for Passing Yards and Rushing Yards, ranking 98th overall in FBS standings.  Idaho is a bit more complicated story. Ranked 10th overall in Passing yards, with more than 340 yards per game, they are 121st in rushing yards at just over 75 yards per game. The Jaguars have allowed an average of 25 points per game, while Idaho has been able to rack up almost 30 per game, but has allowed almost 40 per game. While Idaho is busy scoring, so are their opponents.
With home field advantage playing in the Kibbie Dome, Idaho looks to have a leg up. QB Linehan has already has tallied up over 1000 yards and 8 touchdowns in the midst of three losses. South Alabama's Qb Bridge, has half those yards and a quarter of the touchdowns. The passing/receiving game is going to be key. South Alabama's Smith has only 139 yards and 2 tds, while McCain has caught for 371 years and 5 tds in the his first 3 outings.
Game Details
This game will be broadcast on ESPN 3 from the Moscow, Idaho. Game time is 5:00 p.m. ET on Saturday evening. Follow all the Sun Belt action by following the #RLBowl hashtag on Twitter alongside our Twitter feed @RLCarriers.  Like us on Facebook to keep up with all #RLBowl news from the Mountain West and Sun Belt conferences.  The 14th playing of the R+L Carriers New Orleans Bowl will be played on December 20, 2014 at the Mercedes Benz Superdome in New Orleans. Be sure to vote for your favorite team in our poll above.