2000 miles of travel was easier than 100 yards in a drive for the Ragin Cajuns this weekend. The boys from Lafayette traveled the 5 hour flight to Idaho to tackle the Broncos at home in Boise. It was the Boise Defense that was ready to tackle. The Mountain West Broncos kept Louisiana Lafayette out of the end zone for all 4 quarters and the Cajuns fall in Boise to the Broncos 33-9.
Rushing and Passing
Boise rushed for 262 yards and picked up all 4 touchdowns on the ground. Lafayette couldn't get started and were held to only 67 yards rushing.  The Broncos rushed 25 yards farther than they passed, yet their passing game also surpassed Lafayette as well. Louisiana was unable to find 3rd down conversions and averaged less than 5 yards per pass. QB Terrance Broadway was held to barely 50% completion while Grant Hedrick completed more than  75% of his throws.
Star of the Game
Boise's Jay Ajayi carried 27 times and racked up 150 yards, including three trips into the end zone.  QB Grant Hedrick scrambled 13 times and picked up 24 yards on foot. Lafayette's Defense was unable to stop the pass or rush coming at them. By halftime their fate was sealed 21-3. The second half was more of the same with Boise holding ULL to 2 more field goals and tacking on an additional 13 points for themselves.
4 Weeks In
Boise is now 3-1 as they began their conference schedule with games against Air Force and Nevada in the new two weeks. UL-Lafayette falls to 1-3 as they near their conference schedule. They face Georgia State, Texas State and Arkansas state as they move to find their spot in the Sun Belt.
Around the #RLBowl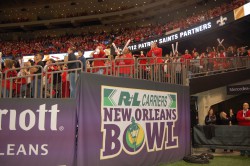 Louisiana-Monroe finds themselves on top of the Sun Belt alongside a rebounding New Mexico State.  With the win on Saturday Boise takes a share of the lead in the Mountain West Conference. Wyoming has a share of that lead with an identical 3-1 record.   Check back here on Thursday for our next game of of the week! Stay connected with all things #RLBowl by liking us on Facebook or following us on Twitter.