R+L Carriers Bowl Week in New Orleans is more than a game. During this week, the holidays are in full swing and bowl season is getting started. This year, the 18th edition of the R+L Carriers New Orleans Bowl will feature the Appalachian State Mountaineers and the Middle Tennessee State Blue Raiders. Before the game, the players, coaches, and fans are treated to a fantastic week in the Big Easy, full of festivities for everyone to enjoy to make this week more than just a game.
A New Orleans Welcome
Both Appalachian State and Middle Tennessee State arrived on Tuesday to much fanfare. As soon as the players and coaches got off the bus, the sounds of an enthusiastic New Orleans style band could be heard. Then everyone who got off of the bus was festooned with Marti Gras beads. This was all part of giving the teams a small taste of the cities' famous Mardi Gras culture.
This is truly a New Orleans style welcome!
🎷🥁🎺 A Big Easy Style Welcome for @AppState_FB and @MT_FB ! 🎭📿🎉 #RLBowl pic.twitter.com/IXUwGOy5Jt

— R+L Carriers New Orleans Bowl (@NewOrleansBowl) December 11, 2018
Player Parties
The player party for both teams took place at the local New Orleans eatery Shamrock. This exclusive party is a time for teams to relax and unwind before competing on the field on Saturday. Both teams enjoyed music, games, and plenty of New Orleans' world famous food. Shamrock is 16,000 sq. feet of fun! The venue offers 23 Pool Tables, 4 PingPong Cages, 7 Well Lit Dart Boards, and 2 Mini Bowling Lanes to name only a few games. There was also plenty of room to dance once the teams hit the karaoke stage.
Check out Middle Tennessee State arriving in New Orleans and enjoying the Player Party.
https://www.facebook.com/NewOrleansBowl/videos/465334213993744/?__xts__[0]=68.ARCe9M0_cf6FDTeMM1-j6hjS9rqsx3yLajgecgeSotFxyazu9dAgEXlB2aWoRRXbqIQuDA1w_ecQ9–nnYowwdCW7J8Lqfu5KPOkarR3heNBljG2duuWa9BUghnolFGGLw6QnII9IlUdyuRp8xDr-g_thZdmmjBVyMyLF0shlXH_HryVPvQMFDWNWM05DIyTroSOpbQeEd1UvYdDObA-EfnJkHpwL1o3cgFLhQBGZ3uOuzIc7wCMpqLpykb1X2ftOhKqQHAZRxW_j13_-GGaa0hP5rHMZi_6Be3aZhHVf1Fi3hFkKHb1YGRzuUtTwVcSxtHU-hSeMBnLTf6Svb3XdnKNVaoD6YlSemzX3Fj9yDkc6UxSvYe-rFsYWizjRY3N-ZTiyesCdGp-3KGoQfWtobc_7UyYe1yDp7uNuksaCYaQjMagARySuIHZqrBK-peCFzLXbvYlcmMCgw_HdoJ3vIqBigBMipd9O1lbKttxDIHb8IW2dehbb-cUShQJuwAmoig3LKBFDFg-zn5jOW3jk1vCycfpuLaP7T8ygLF6JPKLlX0V69R97HVKrkhfqcDMik1eXacK6w&__tn__=-R
Media Day
Local media had a chance to ask questions to players and coaches of Appalachian State and Middle Tennessee. R+L Carriers caught up with coaches from both teams. Appalachian State Interim Coach Mark Ivey told us that the team has been excited to play in the R+L Carriers New Orleans Bowl since winning the Sun Belt Conference Championship. Middle Tennessee State Head Coach Rick Stockstill said that this is a bowl that that team had its sights set on early in the season.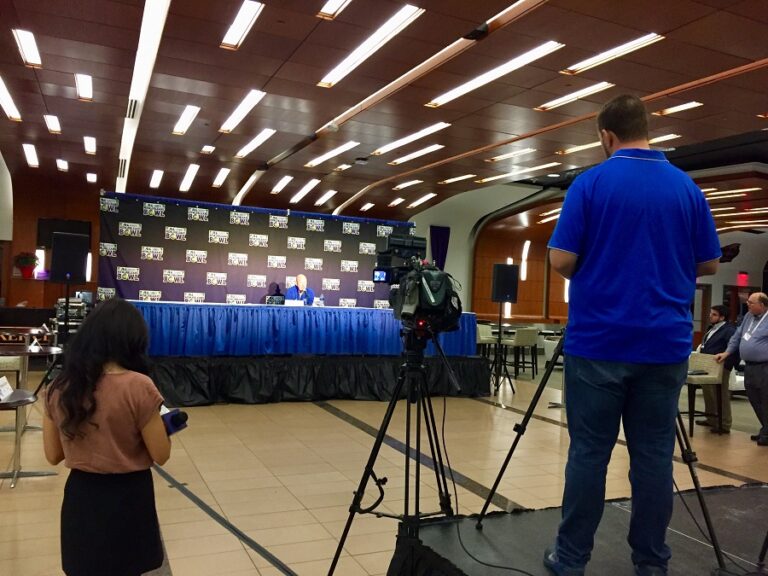 Watch both interviews here.
Day of Service
Middle Tennessee and Appalachian State players were divided into groups and descended into The Big Easy with this in mind – to give back to the community! The teams visited 10 area locations including St. John Head Start, Kingsley House, Tulane Lakeside Hospital for Women and Children, and Bissonet Plaza! Activities for both teams included reading to children, sorting Mardi Gras beads, and visiting patients at local hospitals. R+L Carriers representatives also visited Children's Hospital of New Orleans and were honored to donate our custom Kiddie Carrier wagons to the facility with the help of the Appalachian State football team. The wagons will help provide transport for children throughout the hospital.
We were honored to donate our custom made Kiddie Carrier wagons to @CHNOLA during the @NewOrleansBowl Day of Service. The wagons will help transport children throughout the hospital. Thanks for helping us with the delivery @AppState_FB! #CHNOLAproud #10Strong #RLBowl pic.twitter.com/FzLmzfBShP

— R+L Carriers (@RLCarriers) December 14, 2018
Coaches and Players Luncheon
The Coaches and Players Luncheon is one last time for both teams to come together before kickoff. It is also a time for media and fans to join in on the fun.  The teams entered to the familiar sounds of their pep bands and cheer squads who were there to show the true meaning of school spirit. The crowd was treated to a pre-game coaches chat and videos of activities that the teams have been up to since arriving in New Orleans. The videos included players singing popular Christmas songs and doing impersonations of their coaches.
Heisman Trophy winner and retired professional basketball player Charlie Ward was the keynote speaker at this year. His message to those in attendance was his 5 qualities of a good teammate.
No matter what we are going through we need to persevere to stay on top. – Charlie Ward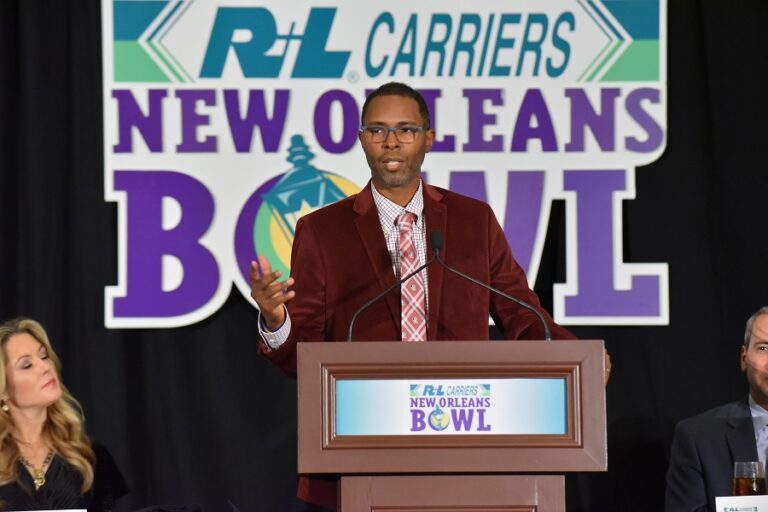 After listening to Ward's keynote, both teams will certainly be ready to demonstrate the 5 qualities of a good teammate in the bowl game.
Cole Swindell, Dustin Lynch, and Lauren Alaina Free Concert
Entertainment for this year was presented by Live Nation and featured Cole Swindell with special guests Dustin Lynch and Lauren Alaina on the Reason to Drink Another Tour.
Check out some of the pictures from the concert last night.
About that @LiveNation #ReasonToDrinkAnotherTour concert last night! 👏👏👏 Thanks for putting on an amazing show @dustinlynch @coleswindell and @Lauren_Alaina! #RLBowl pic.twitter.com/nmMMKiMcJk

— R+L Carriers (@RLCarriers) December 15, 2018
2018 R+L Carriers New Orleans Bowl
This week has been fantastic! It's always great to be back in New Orleans once again as the official sponsor of the R+L Carriers New Orleans Bowl. Tune in tonight at 9 PM  EST on ESPN to see Appalachian State take on Middle Tennessee State live from the Mercedes Benz Superdome. Follow us on Facebook, Twitter, and Instagram to engage with us throughout the game. Use #RLBowl to join in on the conversation!