The 2017 R+L Carriers New Orleans Bowl match-up has been set!
Representing Conference USA,  North Texas will face Troy out of the Sun Belt Conference in the 17th edition of the bowl game. This will be the 12th year that R+L Carriers will be the official sponsor.
Here's what you should know about both teams.
North Texas Mean Green
Finishing in first place in the Conference USA West Division, North Texas was undefeated in conference play until the team lost to Florida Atlantic University in the Conference Championship. Their 7-1 conference record and 9-4 overall record was able to get them invited to the R+L Carriers New Orleans Bowl. You can expect the Mean Green to entertain you on the field. For example, earlier this year there was 1:07 left in a game against the University of Texas at San Antonio. The offense went 98 yards down the field with no timeouts to win the game! Notable players to watch on offense include quarterback Mason Fine and sophomore Notre Dame transfer Jalen Guyton. You won't want to look away when this offense takes the field.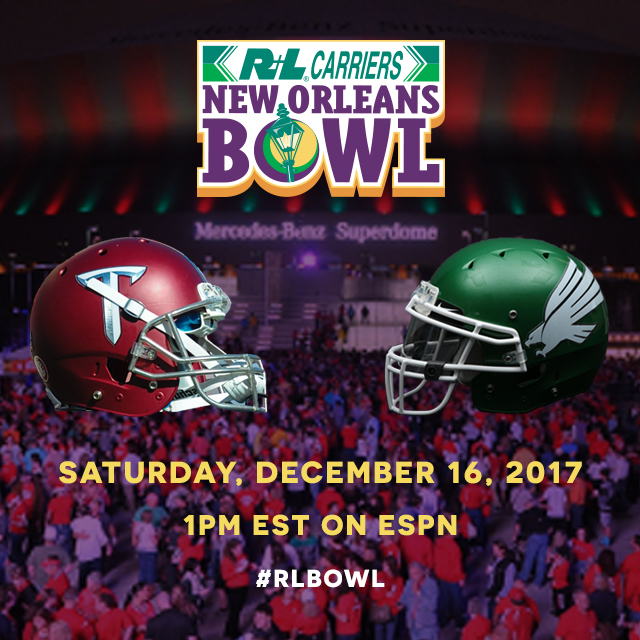 Troy Trojans
The Sun Belt Conference had Co-Champions this year, but the Troy Trojans were invited to the R+L Carriers New Orleans Bowl. In the final game of the season, Troy defeated Arkansas State and was crowned Co-Champion. This is their sixth conference championship since 2006, but their first since 2010. Troy put themselves on the college football map early in the season when they traveled to Baton Rouge and defeated LSU. The Troy defense is the strength of the team, but don't sleep on their offense. In the last game of the season, Troy scored with 17 seconds left to win! Notable players to watch include quarterback Brandon Silvers and true freshman cornerback Marcus Jones.
Will the defense of Troy be able to stop the offense of North Texas?
Join us here as we follow both teams on and off the field leading up to the bowl game on December 16 at 1 pm EST.  Watch the game on ESPN or listen on ESPN Radio. For all the game day details, events and news from New Orleans follow us on Twitter, Facebook, and Instagram. Be sure to follow  #RLBowl for updates!