For thirteen years the New Orleans Bowl has provided teams from the Sun Belt,Conference USA, and other select conferences a chance to shine on the National Spotlight. During those thirteen games, more often than not, the winning quarterback has taken home the MVP spot. Louisiana-Lafayette is in possession of two MVP trophies alongside their three champion trophies. It was in 2013 that the runner up team captured the hearts of fans as well as the MVP trophy. Tulane running back Orleans Darkwa holds the honor of being that player.
Where are those MVPs now? Scroll down for an update from these men who dazzled fans with their play on the New Orleans Bowl turf. Justin spent the summer of 2002 with the Arizona Cardinals prior to being released prior to the season start.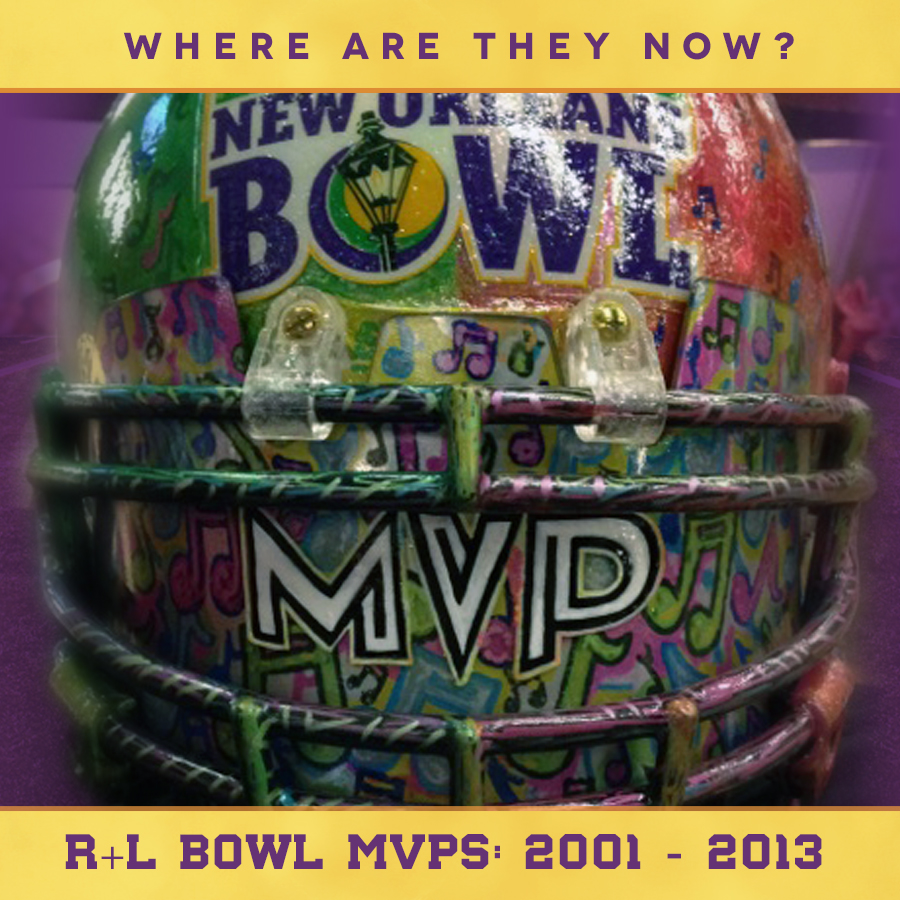 Justin Gallimore, 2001, Colorado State, DB
Justin led CSU to the Liberty Bowl in Memphis in 2002. Justin was fortunate to play football with his twin brother Jason at CSU. Justin signed with Arizona Cardinals in 2003 and was released before the start of the season.
Kevin Galbreath, 2002, North Texas, RB
Following his time at North Texas Kevin worked with youth. Using his athletic skills helping kids improve theirs. Kevin lives in Texas and works as a truck driver when he is not coaching youth sports.
Danny Wimprine, 2003, Memphis, QB
This Louisiana native was drafted by the Tampa Bay Rays in 2000 from high school. He declined baseball to play football for Memphis. Drafted in 2005 by the Cleveland Browns, Danny was unable to secure a spot. He played in the CFL in Calgary, then returned home and led the New Orleans VooDoo arena league team for two seasons before leaving the game in 2012.
Michael Boley, 2004, Southern Miss, LB
Michael was drafted in the 5th round of the NFL draft in 2005.  Playing for the Atltanta Falcons for 4 years he racked up a great resume and capitalized on free agency he signed a 5 year $25 million dollar contract with the New York Giants. While there he was part of the 2012 Super Bowl winning team. Released by the Giants in 2013, Boley is now with the Cincinnati Bengals.
Shawn Nelson, 2005, Southern Miss, TE
Another Louisiana native, Shawn hailed from from a small town between Baton Rouge and New Orleans, Gonzales. After 4 years at Southern Miss, he was MVP his Sophomore year, he was drafted in the 4th round by the Buffalo Bills. Shawn played two seasons for Buffalo before being released and then picked up by the Jets in 2011. He was waived by the Jets due to injury later that season.
Omar Haugabook, 2006, Troy, QB
After two great season in Troy, the NFL wanted to see Omar as a RB or receiver. He dropped the weight and suffered a pulled hamstring which left him unable to show off his 4.42 forty sprint. Omar found himself in British Columbia with the B.C. Lions of the CFL in May of 2008 as a QB. In 2009 Omar was leading the Houma Conquerors of the Southern Indoor Football league.
Rusty Smith, 2007, Florida Atlantic, QB
Rusty left FAU after 4 season via the 2010 NFL Draft. The first player from FAU ever to be drafted was taken by the Tennessee Titans in the 6th round. He played for the Titans for three years. He was waived and briefly entertained by the Giants in 2014. He resides in Nashville with his wife and child.
Austin Davis, 2008, Southern Miss, QB
A determined Davis started his career at Southern Miss as a walk on. Redshirted his Freshman year, he went on to a great career there. During his senior year he passed Brett Favre's yardage record in the second game of the season. Undrafted, he signed with the St. Louis Rams in 2012 and was released in 2013. He then signed with Miami before returning the Rams a month later. Austin is another of our MVPs who was drafted in baseball as well. He was selected by the Red Sox in 2012, even thought he only played one year of baseball in 2007.
Dwight Dasher, 2009, Middle Tennessee, QB
Dasher lead the Blue Raiders back to bowl play in 2010. Middle Tennessee suffered a loss to Miami of Ohio in the Go Daddy Bowl in January of 2011. Despite his career at MTSU Dwight never secured a spot in the NFL. He was invited to join Calgary in the CFL.
Corey Robinson, Troy, 2010, QB
Corey led Troy to a win over Ohio University in the 2010 game. The Paducah Kentucky native was undrafted this year and signed as a free agent with the Cleveland Browns. We are waiting to see how camp goes for Corey in Cleveland.
Blaine Gautier, 2011, Louisiana-Lafayette, QB
Blaine finished 4 years at Lafayette with two New Orleans Bowls under his belt. Injuries moved the 2012 MVP into the starting spot for ULL during Blaine's senior year. Unsigned in free agency in 2013, Blaine was last spotted on campus in May for the NFL combines with hopes of landing a spot in the CFL.
Terrance Broadway, 2012, Louisiana-Lafayette, QB
After leading the Ragin Cajuns to their second New Orleans Bowl victory in 2012 he repeated that feat in 2013. Terrance is a senior at ULL and is expected to start as QB for the Cajuns for the 2014 season.
Orleans Darkwa, 2013, Tulane, RB
When your name is Orleans you are destined to play in the New Orleans Bowl. Darka hails from Tennessee and led his team to their first bowl appearance in over 10 years in 2013. As the only New Orleans Bowl MVP to have played for the runner up team, Tulane's RB was a force to watch and defend. Darkwa didn't get picked up during the draft but accepted a free agency offer to play for the Miami Dolphins.
2014 R+L Carriers New Orleans Bowl
The 14th edition of the R+L Carries New Orleans bowl has been scheduled. Mark your calendars for December 20th at 11 a.m. in the Dome. Like R+L Carriers on Facebook, follow us on Twitter and track the hashtag #RLBowl for news and updates regarding the bowl.