The first College Football Playoff Rankings have been announced. The committee pinned Clemson, LSU, Ohio State and Alabama as the top four teams in the country. This was only the first of six college football playoff rankings this year with the next five set to be released in the upcoming weeks. The final rankings, Selection Day, will be announced on Sunday, December 6. This is when the final four teams playing in the College Football Playoffs for a chance to win the National Championship will be determined. We will also find out how the rest of the bowl games shape out, including the New Orleans Bowl presented by R+L Carriers which will take place on Saturday, December 19 at 8 pm.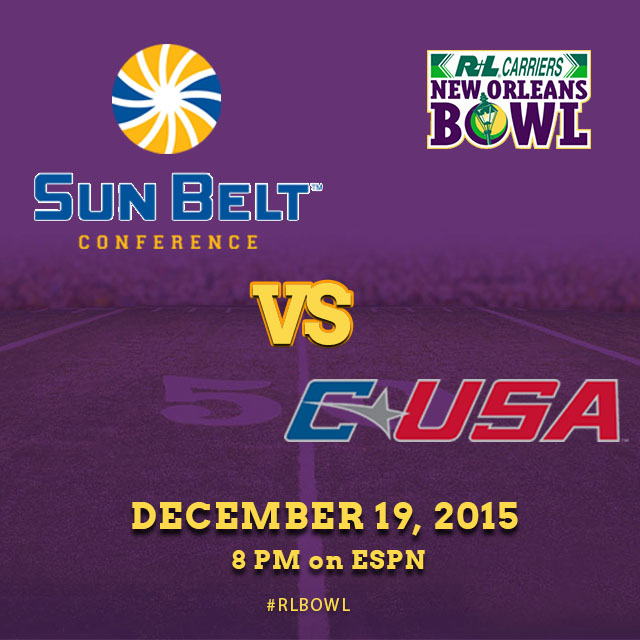 Impact on the R+L Bowl
The initial rankings do not have a very strong impact on the R+L Bowl outcome. This year's Sun Belt opponent will come from Conference USA. Right now, according to early ESPN predictions by Mark Schlabach, Arkansas State and Louisiana Tech are expected to appear in the 2015 New Orleans Bowl. Brett McMurphy predicts to see Louisiana-Lafayette vs. Southern Miss. None of the mentioned teams are currently ranked in the College Football Playoff committee's first poll.
Sun Belt and Conference USA Teams to Watch
Appalachian State and Arkansas State both sit at 4-0 in the Sun Belt, with Appalachian State in the driver's seat of the conference at 7-1 overall. Arkansas State is 5-3 overall. These two teams square off Thursday night on ESPNU at 6:30PM (CT) with first place in the Sun Belt on the line. Early ESPN predictions have Appalachian State heading to the GoDaddy Bowl on December 23, but this could change depending on the outcome of Thursday night's showdown.
Marshall is currently in the driver's seat in the Conference USA East Division at 8-1 overall and 5-0 in the conference, but Western Kentucky is right there with them in the conference at 5-0. Louisiana Tech and Southern Miss both sit at 6-3 overall and 4-1 in conference play in the West Division. Louisiana Tech could possibly be invited to the New Orleans Bowl based on early predictions, while Western Kentucky could be invited to the Miami Beach Bowl. Marshall is said to have a chance to head to the Popeyes Bahamas Bowl.
Stay with us throughout the remainder of the college football season for news and updates on the R+L Bowl, Sun Belt Conference, Conference USA and the College Football Playoff. You can also have updates delivered directly to you by following us on Facebook, Twitter and Instagram.